Kate's family portrait
Following in her father's footsteps Kate seems to have taken to a bit of portrait taking, as a week or so ago we were treated to the first official pics of the little prince and princess together. And, she has obviously learnt a thing or two about taking a good snap.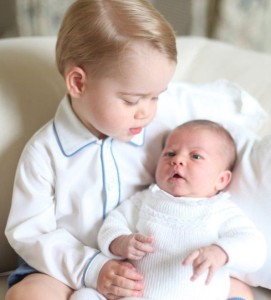 Clearly taken with a an slr camera, with prime lens and wide aperture, she has created a low depth of field look, to portray a blurriness in the background. Using this type of camera and creating depth of field gives it the professional finish, something that just isn't possible with our trusty iPhones!
Time has also been taken when choosing the style, she has opted for natural light, as the shots are taken by a huge window letting in lots of light. George is dressed in white and blue and his little sis in a pretty white wool, making them look classy and rather regal, which won't be a mistake.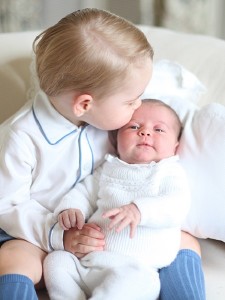 The main accomplishment of all which truly makes the set of portraits, is that she has managed to get a series of shots where a two year old is holding a newborn, both with camera ready expressions, looking relaxed and happy. (Which can be a bit of a task!)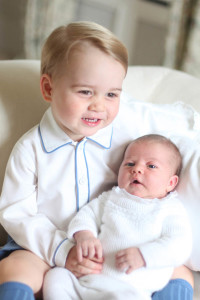 If we were going to be a little picky, we would have possibly changed the background as the curtains are a little distracting, and there are some bits that are a tad over exposed – but overall they are a gorgeous set of portraits of the lovely royal siblings.
Fancy creating some of these natural light style shots with your tots? But don't have as much time on your hands as the duchess? Let us do the work, we have a whole gallery of stunning natural light portraits, check them out here
***